HOW TO USE THE RESOURCE ADEQUACY SAC UNIT TEMPLATE
NOTE: MISO MAKES NO REPRESENTATIONS OR WARRANTIES OF ANY KIND, EXPRESS OR IMPLIED, WITH RESPECT TO THE ACCURACY OR ADEQUACY OF THE INFORMATION CONTAINED HEREIN. MISO SHALL HAVE NO LIABILITY TO RECIPIENTS OF THIS INFORMATION OR THIRD PARTIES FOR THE CONSEQUENCES ARISING FROM ERRORS OR DISCREPANCIES IN THIS INFORMATION, FOR RECIPIENTS' OR THIRD PARTIES' RELIANCE UPON SUCH INFORMATION, OR FOR ANY CLAIM, LOSS OR DAMAGE OF ANY KIND OR NATURE WHATSOEVER ARISING OUT OF OR IN CONNECTION WITH (i) THE DEFICIENCY OR INADEQUACY OF THIS INFORMATION FOR ANY PURPOSE, WHETHER OR NOT KNOWN OR DISCLOSED TO MISO, (ii) ANY ERROR OR DISCREPANCY IN THIS INFORMATION, (iii) THE USE OF THIS INFORMATION, OR (iv) ANY LOSS OF BUSINESS OR OTHER CONSEQUENTIAL LOSS OR DAMAGE WHETHER OR NOT RESULTING FROM ANY OF THE FOREGOING.
Make sure you have the correct spreadsheet for your region.
The RA Hours are already pre-filled into the spreadsheet
.
1) Navigate to Step1 – RT Offer EmerMax tab at the bottom of the spreadsheet. Click this tab to open.

2) Enter the following information for columns H: RT Offer EmerMax (MW), I: Leadtime hours, J: Outage Identifier (1=Out-Of-Service), K: Online Identifier (1=Online), L: GVTC, M: Exemption Identifier (1=Exemption; 0=Otherwise) This binary indicator of either the resource has outage exemption based on CROW; or the resource is not a RAR capacity based on the PRA.





3) Navigate to Step 5 Calc ISAC tab at the bottom of the spreadsheet. The system will have automatically calculated the ISAC.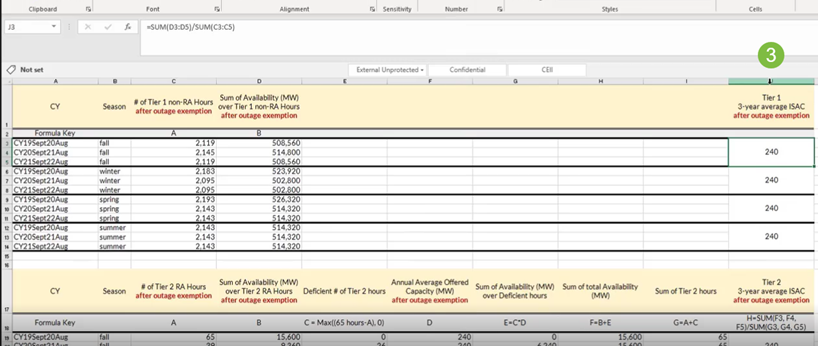 4) Navigate to Step 6 at the bottom of the spreadsheet. This is where you can update the Conversion Ratio UCAP/ICAP for each season and see SAC values.