MISO utilizes ShareFile to exchange information with customers when files sizes exceed email file size restrictions
ShareFile Data Retention Notice
ShareFile is not a file repository. Files will be deleted after 30 days of being located on ShareFile, so we have turned notifications on for when files are uploaded to these folders. If MISO has uploaded a file to this folder, please download it as soon as you receive a notification.
ShareFile User Manual
Accessing Sharefile
New Users
You will receive an email from MISO notifying you that a folder has been shared with you.
Use the activation link to verify your account details and provide a password.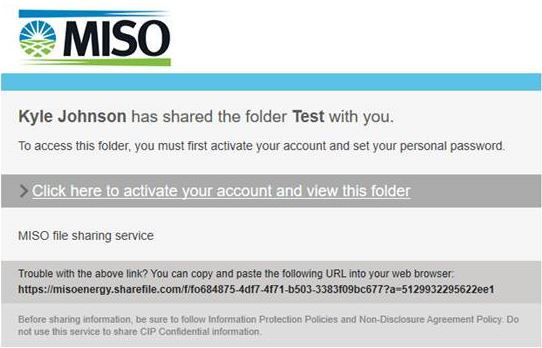 Returning Users
Navigate to https://misoenergy.sharefile.com
Enter your Email and Password in the "MISO Stakeholder Login" section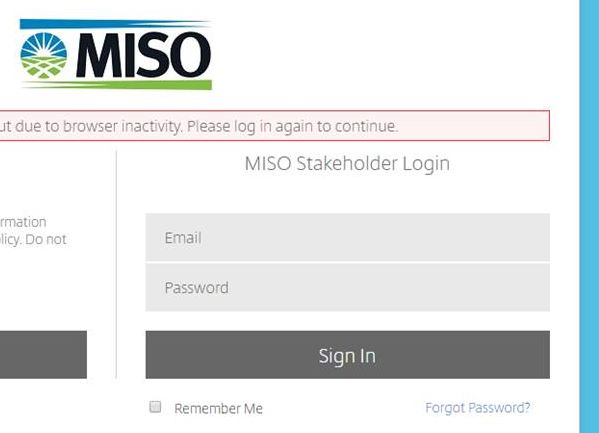 Navigating ShareFile
NOTE: If you do not see folders for the Transmission Owners as you expect, please create a case in the Help Center
Navigate to the "Shared Folders" page under the "Folders" section in the left navigation page

  Folders assigned to the Transmission Owner(s) to which you have been granted permission to access will show up in this location.
​​​​​​​
 Within each folder, you will see a subfolder for Rate Updates and one for ROE Order as needed for forward-looking or historical reporting Transmission Owners. 
Uploading and Downloading Files
Navigate to the folder indicating the year for which you will submit data
Upload your files: 

 Click either the "Browse Files" 
 Drag a file onto the screen,
 Hover over the "+" and select "Upload" to submit the necessary files

​​​​​​​To download files, click the check box to the left of the files you wish to download and then click "Download".

​​​​​​​

​​​​​​​